The 6th Shanghai International Exhibition on Bio-fermentation Products and Technology Equipment and International Biopharmaceutical and Technical Equipment Exhibition will be held in Shanghai New International Expo Center from September 4th to 6th, 2018. The exhibition was organized by China Biofermentation Industry Association and was organized by Shanghai Xinshi Exhibition Service Co., Ltd.
BIO CHINA (Shanghai Fermentation Exhibition) is the most professional, largest and most representative international event in the Asian fermentation industry. It is the "benchmark" of the development process of the Chinese fermentation industry. Shanghai Ferment Exhibition has a gold medal quality. In the past five years, it has created a brilliant exhibition brand. Its core spirit is to strive for excellence and focus on professional achievement.
The exhibition provides a platform for the biofermentation industry and related industries to exchange technology, promote cooperation, and increase brand and corporate awareness. Through this platform, the biopharmaceutical industry can have many opportunities for development and growth.
The exhibition will gather together and organizers will invite representatives of various user industries to attend. Food, beverage, medicine, feed, bio-fermentation, bio-pharmaceutical, fertilizer, wine, dairy products, cakes, health products, functional foods, food additives , food ingredients, convenience foods and semi-finished products, dairy foods, snack foods, canned foods, hams and sausages, vinegar, grain and oil processing, ice cream and desserts, pasta processing, cosmetics, daily chemicals, paper, leather, washing, textiles, coating chemistry Representatives of production companies, engineering technicians, domestic and foreign trade organizations, research institutes, universities and scientific research institutions related experts and scholars participated in this exhibition.
The exhibition exhibits a wide range of exhibits. These include bio-fermentation product exhibition areas, fermentation laboratory equipment, fermentation equipment and automation control systems, separation and extraction equipment, and biogas technology and equipment, environmental protection equipment and technologies.
In the past five years, the Shanghai Bioferment Exhibition has received great praise from the industry. After many years of meticulous cultivation, BIO CHINA (Shanghai Ferment Exhibition) has achieved remarkable results in terms of participation, exhibition area and service, and has become recognized in the industry under the strong support of exhibitors and industry figures at home and abroad. The largest exhibition, the largest collection of national brands, and the industry's best performing event.
BIO CHINA•2017 (Shanghai Ferment Exhibition) was grandly held at the Shanghai New International Expo Center on October 25-27, 2017. This exhibition provides a one-stop solution for the bio-fermentation industry, gathering bio-fermentation in food, biomedicine, etc. 20 In a variety of applications, various professionals actively participate in sharing experiences and broaden their horizons to jointly promote the development and progress of the domestic fermentation industry.
In 2018, Shanghai Biofermentation Exhibition will inherit the spirit of all previous exhibitions, adhering to the all-round industry chain model, and strengthen the communication and cooperation between various industry associations, foreign chambers of commerce and the media, and expand their influence in the industry. BIO CHINA (Shanghai Ferment Exhibition) is a brand event and will become a "vane" of the bio-fermentation industry. In the future, BIO CHINA (Shanghai Ferment Exhibition) will make greater contributions to the development of China's bio-pharmaceutical industry.
Shanghai Fermentation Exhibition is bound to open up the entire industrial chain of fermentation. Whether you are looking for raw materials, equipment, sales channels, promotional channels or technology, Shanghai Ferment Exhibition will be your first choice! Exhibitors, participants, visits 021-67602212 18516018928 Wang Cheng QQ; 2479672464 Website:
Introduction of Screw Conveyor
Screw conveyors, also known as auger conveyor,Spiral Conveyor, are made for simple conveying duties applications. The real strength of our company, however, is our ability to produce individually designed units that include features to overcome awkward installations, materials that are difficult to handle, or include performance or process functions beyond simple conveying. Some requirements may be concerned with aspects of hygiene, others with bulk solids that have poor or delicate conveying properties.
Screw conveyor is divided in two types rigid screw conveyor and shaftless screw conveyor.

Rigid screw conveyor is suitable for non-sticky powder and small particle material such as cement, fly ash, lime, flour, starch, food additive etc.

Shaftless screw conveyor is suitable for sticky and easy winding materials such as sludge, biomass.

Features of screw conveyor
*Tube type and U shape type available
*It can be designed inclined conveying,horizontal conveying and vertical conveying.
*Widely used for all kinds of powder,particles,small block and loose material.
*not suitable for conveying perishable material,high viscosity,less pressure resistant material.
*not suitable for agglomerate or high temperature material.
*not suitable for great corrosive special material and fragile material.

Warranty
Our machines have an automatic 12 months guarantee against faulty material and workmanship valid from the date of dispatch in China or date of arrival at foreign border.

If any problem of the machine under instruction within one year,we are responsible for replacement incuding delivery fee and maintenance.

Lifelong service is offered with cost charge after one year.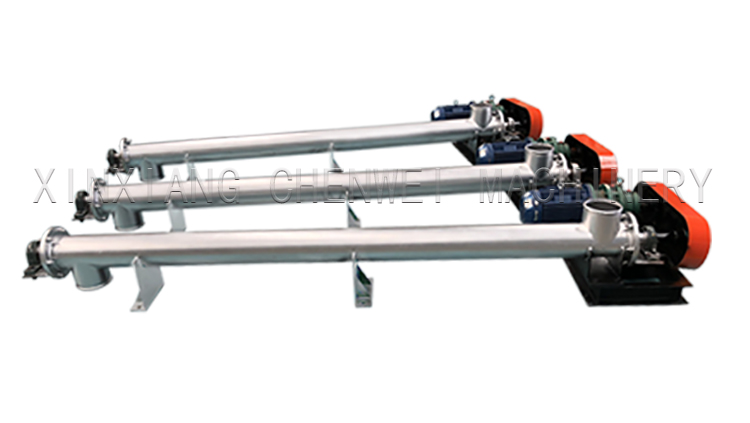 Screw Conveyor
Screw Conveyor,Spiral Conveyor,Small Screw Conveyor,Industrial Screw Conveyors
XINXIANG CHENWEI MACHINERY CO.,LTD , https://www.cwsieve.com