Recently, Mann Commercial Vehicles (Trade) China Co., Ltd. filed a recall plan with the AQSIQ and will recall some of the imported 2017 models that will be produced from December 29, 2016 to February 8, 2017. car. According to the company's statistics, there are 16 vehicles in mainland China.
Due to the supplier's reasons, some of the vehicles in the scope of this recall may not be properly riveted for the steering joint shaft of the double universal joint. The ball joint, the ball seat or the bracket may be loose, and the universal joint cannot be guided and may be side. Deviation, causing the steering wheel to rotate is not smooth, there is a safety hazard.
Mann Commercial Vehicles (Trade) China Ltd. will inspect the vehicles within the scope of the recall and replace the steering shaft if necessary to eliminate defects. The inventory vehicle will be sold after the defect has been eliminated.
If the relevant user finds abnormal sound of the drive shaft, please stop immediately and contact the service personnel for inspection. The user should contact the dealer for repair as soon as possible after the recall operation begins.
Mann Commercial Vehicles (Trade) China Ltd. will notify customers by registered mail, telephone and SMS. Users can call Mann Commercial Vehicle (Trade) China Co., Ltd. hotline 400-108-0505 via landline or mobile phone to get information about this recall. Users can also visit the AQSIQ website inspection and supervision department (jyjgs.aqsiq.gov.cn), the AQSIQ Defective Product Management Center website () and the WeChat public account (AQSIQDPAC) to learn more. information. In addition, you can also call the Defective Product Management Center hotline or the local entry-exit inspection and quarantine agency's quality hotline: 12365 (switch No. 2), reflecting the problems in the implementation of the recall or submitting defects.
Water Loop Heat Pump
Cooling capacity 2.5kW-45kW
Advantage: Packaged type water loop heat pump to save space; High efficiency; Installation very easily and low noise. Split type water loop heat pump(optional).

Characteristics:
1.Structure. Galvanised steel construction, closed cell foam lined compressor and fan compartments, with an insulated and powder coated drain tray for complete moisture protection, the drain tray is easily removed for inspection and cleaning.
2.Refrigerant. Each heat pump Air Conditioner is factory charge with refrigerant R410a, which is deemed to have zero ozone depletion potential.
3.Hermetic compressor. Single phase rotary compressor is used for this heat pump unit, with built-in thermal overload cut-out, mounted on rubber vibration dampers.
4.Centrifugal fan. High efficiency, double inlet centrifugal fan. Protection level IP44. Low noise, low speed, big air flow and high ESP.
5.Water side heat exchanger. High efficiency coaxial heat exchanger, factory insulated with flexible close cell material.
6.Air filter. An optional filter integrated return air spigot is available on all models. The filter is a washable polypropylene net media. Care should be taken, when location each unit, that to enough space is provided to enable the one-piece filter to be withdrawn to its full length from either side of the heat pump air conditioner.
7.Electric heater(optional). For cooling only version. Electric elements have spirally wound stainless steel fins to give increased area and low surface temperature. They are totally enclosed within the water cooled packaged chiller and are supplied with safety cutouts. An optional fan run-on timer for rapid heat dissipation is available.
8.Electric panel. Consists of:
Compressor contactor
Compressor protection breaker
Microprocessor with function display
9.All models are equipped with wire controller with the following features:
♦ 7days programmable timer
♦ Auto random reset
♦ Error self diagnostic

10.Safety protection. High pressure switch, low pressure switch, discharge temperature protection and anti freezing protection.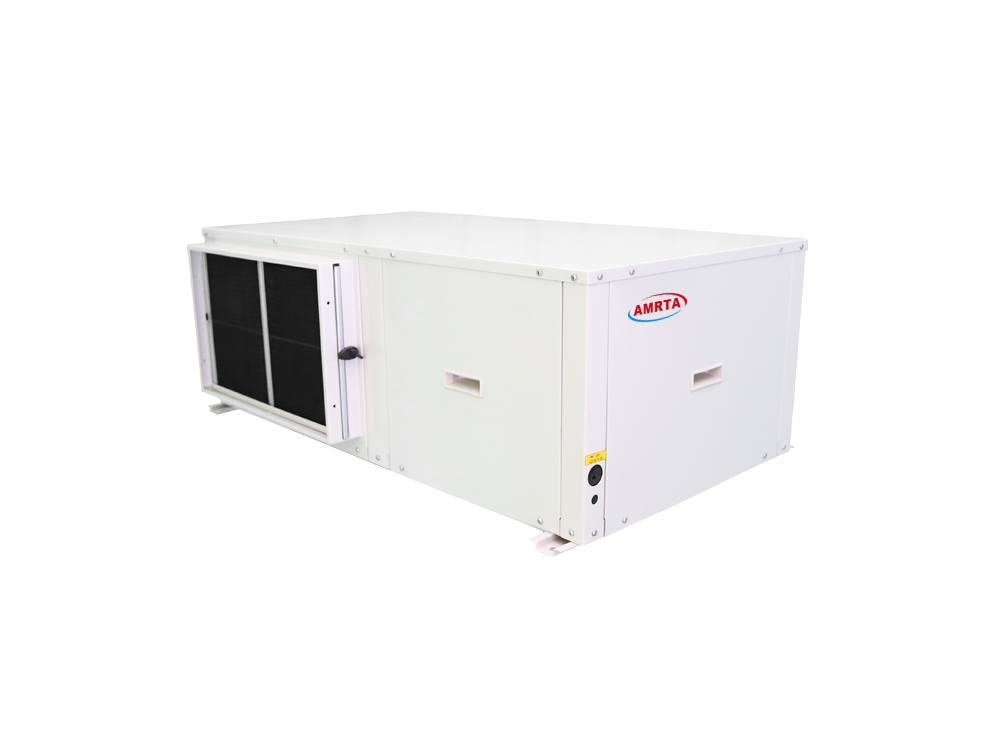 Water Loop Heat Pump
Water Loop Heat Pump,Packaged Water Loop Heat Pump,Water Loop Heat Pump Air Conditioner,Water Loop Heat Pump Unit
Jinan Amrta Air Conditioning Co.,Ltd , https://www.waterchiller.pl