Japanese Type 300A Welding Electrode Holder (SY-2006)

GB are professional manufacturer of welding tools and safety equipments, we can supply electrode holder, earth clamp, welding mask, safety helmet, safety goggle, face shield, gloves, safety vest, saftey belt, working uniform and so on.

DESCRIPTION OF SY-2006:

-External touch body with comfortable handle, good insulation property, high impact strength and heat-resistant strength

-Internal electric conductor is adopted the plated copper with nice electrical conductivity, low resistance or less heat

-Adopt top-grade spring steel with high elastic strength to ensure the welding rod in stable gripping and hard to fall off

-The insulated spring sheath guarantees the outstanding insulation

-Utilize the updated design concept combining with the operating characteristic of welding clamp in accordance with user's operation information to make its structure more reasonable and appearance more original. Different types are available(German type, American type, Italian type, Holland type, Japanese type, Korean type, French type, traditional type)

-Enterprise has gotten the CCC certification and ISO9001-2000 system certification so ensure product quality

MORE DETAILS:

1. MATERIAL: Copper(best ), brass(better), iron with copper or brass coating (good)

2. Amperage: 200A, 300A, 400A, 500A, 600A, 800A

3. We can do new mould for you on the basis of your design

4. You can print your logo on the product and color box

PACKING DETAILS:

1 PC /COLOR BOX, 50PCS/CARTON

CARTON SIZE: 46*36*25CM

G. W/N. W: 22/20KG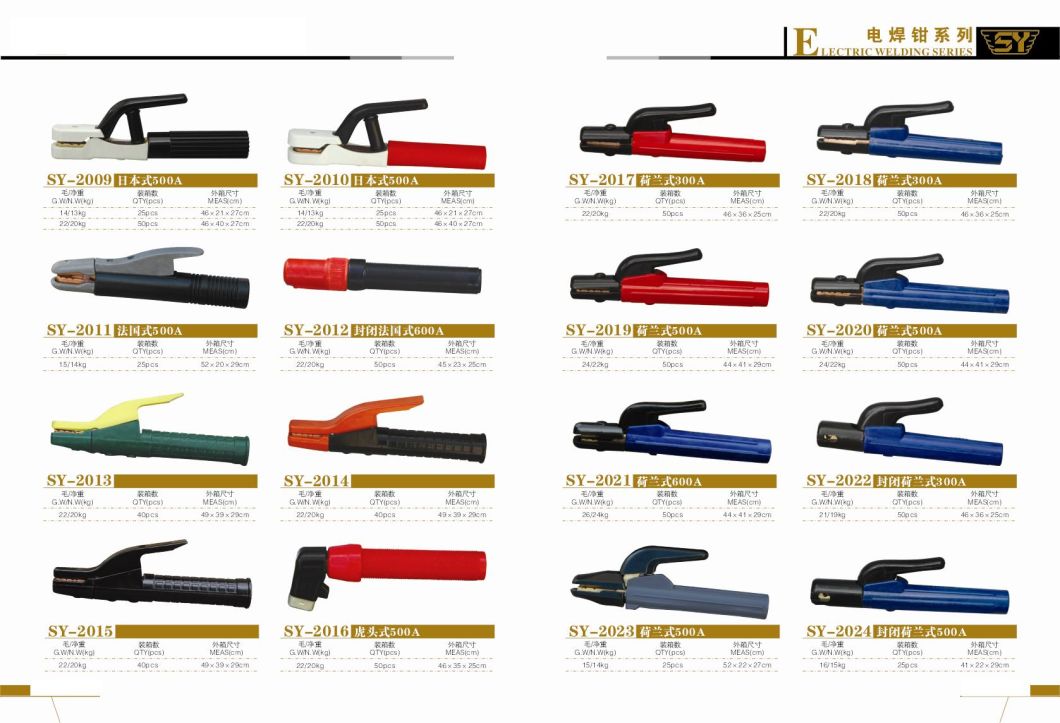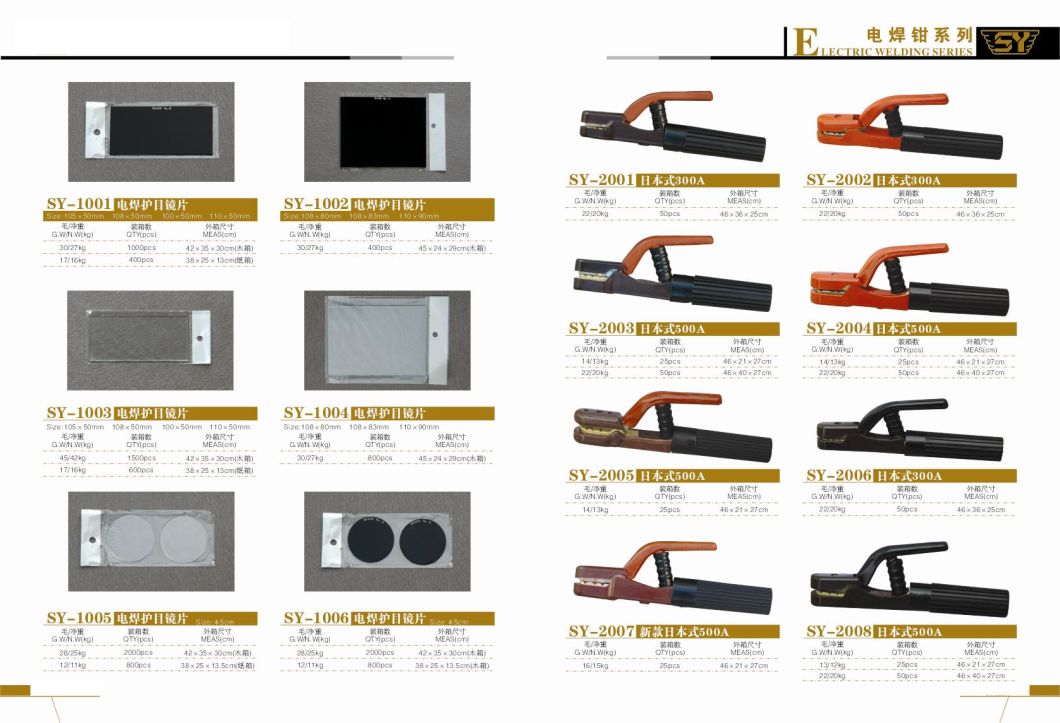 Airless Spray Gun
This process occurs when paint is applied to an object through the use of an air-pressurized Spray Gun. The Sprayer Gun has a nozzle, paint basin, and air compressor. When the trigger is pressed the paint mixes with the compressed air stream and is released in a fine spray.


Types of nozzles and sprays
Due to a wide range of nozzle shapes and sizes, the consistency of the paint can be varied. The shape of the workpiece and the desired paint consistency and pattern are important factors when choosing a nozzle. The three most common nozzles are the full cone, hollow cone, and flat stream.There are two types of air-gun spraying processes. In a manual operation method the air-gun sprayer is held by a skilled operator, about 6 to 10 inches (15–25 cm) from the object, and moved back and forth over the surface, each stroke overlapping the previous to ensure a continuous coat.In an automatic process the gun head is attached to a mounting block and delivers the stream of paint from that position. The object being painted is usually placed on rollers or a turntable to ensure overall equal coverage of all sides.

Airless Spray Gun
Airless Spray Gun,Airless Paint Spray Gun,Paint Spray Gun,Spray Gun
Fuzhou HVBAN Mechanical Equipment Co., Ltd. , https://www.hi-sprayer.com