On September 26, 2017, as a global technology leader in solutions for clean and efficient drive systems for internal combustion engines, hybrids and electric vehicles, BorgWarner provides a wide range of product solutions for the rapidly growing hybrid and electric commercial vehicle market, helping automotive Manufacturers achieve emissions regulations and fuel economy goals. It is estimated that the sales of hybrid and electric commercial vehicles will increase from 49,000 units in 2017 to 115,000 units in 2020, representing a compound annual growth rate of 32.9%.
Christopher P. Thomas, chief technology officer at BorgWarner, said: "The growth momentum of the commercial vehicle drive system market is changing. Although environmental protection and fuel economy are still the key to driving demand growth, more and more cities are making zero emissions. With noise control requirements, the use of internal combustion engines is limited, thus creating new challenges for trucks and transport vehicles.BorgWarner's latest technology will bring new, cleaner hybrid and electric engine options to more vehicles. "
For example, BorgWarner's versatile HVH410 and HVH 250 motors achieve industry-leading motor power and torque density with a patented high-voltage hairpin stator winding technology (HVH) with output power up to 300 kW (402 hp), peaking The power reaches more than 95%. The HVH410 motor provides a maximum of 2000 Nm of torque for 7- and 8-stage hybrid and electric motors, while the HVH250 motor has a maximum torque of 550 Nm.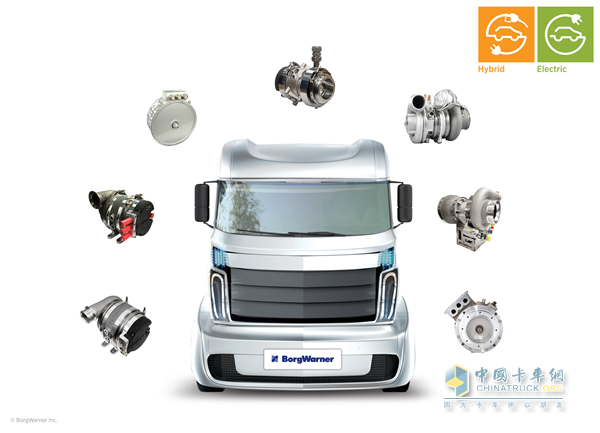 BorgWarner New Energy Vehicle
In addition, BorgWarner's 48-volt high-efficiency motor/generator can effectively increase system efficiency and energy recovery to meet increasing power requirements.
BorgWarner's eBooster electronic supercharger technology has also been successfully applied to the market, which can significantly improve the efficiency of small commercial vehicle engines with a displacement of less than 5 liters. The company is also developing new products for large engines with up to 13 liters of displacement.
BorgWarner's eTurbo technology is able to recharge the car battery by generating electricity, which further enhances the electric boosting efficiency of the vehicle. This technology offers two models for small and large commercial vehicle engines.
BorgWarner is currently working on its own and also working with customers to develop new types of electric turbine equipment, including ORC (Organic Rankine Cycle) expanders that support power output, turbine generators, and extended gasoline turbines for electric commercial vehicles.
BorgWarner will demonstrate its extensive range of internal combustion engine, hybrid and electric vehicle solutions at the upcoming North American Commercial Vehicle Show (NACV) in Atlanta, Georgia.
The bendix is Spare parts for starter. From the Armature to get power, transmitted to the engine.
We supplier good quality for bendix.
POINTS TO ATTENTION:
1- Keep a careful check on gear ring before installation, replace one if damages.
2-Installed surface of both motor and generator should be kept clean, Make sure the strength to the bolts.
3- Clean each connection port, Strictly observed the sketch, Make sure of firm connection and tight electric conduction.
4- Check if the key could be automatic
Starter Drive, Starter Drive Assembly, BOSCH Starter Drive, DELCO Starter Drive, FORD Starter Drive
NINGBO ZHONGWANG AUTO FITTINGS CO.,LTD , http://www.autostarter-alternator.com