After you have become a Chinese shopping festival with double features, you must wait at home for the joy of demolition. However, few people will think of the courier's transportation and the trucks that are closely related to it. In today's booming e-commerce business, the pursuit of timeliness has become a new benchmark, and the protagonist is the
heavy truck
that has to be said.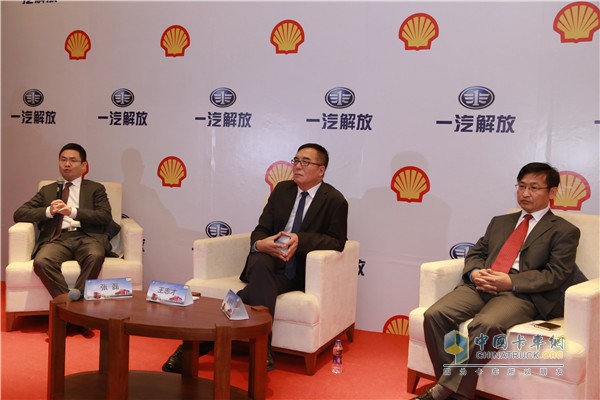 Wang Zhicai, General Manager of FAW Jiefang Automobile Sales Co., Ltd. (middle)
How to ensure that trucks are running on the road 24 hours a day to ensure their attendance and timeliness? How to extend the life of trucks? Is maintenance necessary for trucks? China Truck Net is busy shopping for everyone. On the same day, he interviewed Zhang Lei, General Manager of OEM Sales of Lubricant Division of Shell (China) Co., Ltd., Wang Zhicai, General Manager of FAW Jiefang Automobile Sales Co., Ltd. and Vice President Hu Xiaodong on the same issue. In terms of meaning, it is very significant.
It is the first national liberation Shell joint service inn-cum-liberation Shell House FAW set up in Changsha.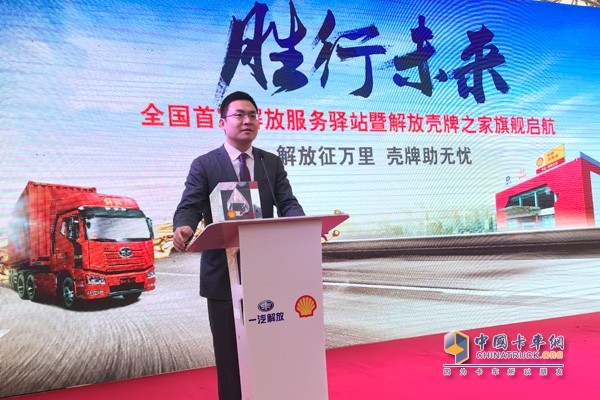 Shell (China) Co., Ltd. lubricants division general manager of OEM sales Zhang Lei
Why did you want to do this? Zhang Lei told China Truck Network that the purpose of joining forces with FAW to establish a after-sales service brand shop was to bring the most tangible benefits to liberated users. This is also Shell's purpose for a long time. For example, Shell's self-developed GTL gas-to-oil technology has enabled Jiefang Truck to achieve a 100,000-kilometer long oil change cycle in China for the first time. This means that the majority of logistics transport truck drivers can reduce the number of maintenance and repair, reduce the overall cost of vehicle maintenance; Second, improve the vehicle's attendance efficiency, improve its transport services and customer satisfaction.
E-commerce logistics has become a new economic form. Compared with today's double 11-day cats, the amount of transactions generated on the day exceeds 160 billion, and the trucks that serve them are playing an important supporting role: the customer requests delivery within three days. How do trucks guarantee full trouble-free service? Sufficient supply for consecutive six months or a year. How to ensure trucks have high attendance throughout the year? These are the concerns of truck drivers. They are also issues that Shell and FAW are concerned about.
Zhang Lei told China Trucking Network that "long oil change" is a unique business card jointly created by Shell and FAW Liberation. This business card has now added a new image carrier. This is the liberation service station and Liberation Shell House. Represents a superior maintenance experience, professional and convenient oil change service, comfortable and pleasant rest space, and a home away from home. Changsha is only the first business card, and then this business card has more influence, because Zhang Lei and Wang Zhicai jointly stated that Shell will join forces with FAW to build 100 service stations nationwide in the next three years.
Deputy General Manager of FAW Liberation Sales Co., Ltd. Hu Xiaodong
As for why it pays attention to after-sales service, Hu Xiaodong said that this is shifting with the attention of customers. Today, customers are concerned about the efficiency and timeliness of logistics, which in addition to the quality and reliability of products, the maintenance of products It also needs strong support to provide the best guarantees for the liberation of users along the way to ensure the efficiency and timeliness of their vehicle transportation.
Zhang Lei also said that after-sales service has become a new competitiveness of the heavy truck market, so this is Shell and FAW Jiefang common face to end customer needs and pain points, continue to promote end-user care, improve customer satisfaction, foster customer loyalty, practice to China The reasons for the long-term commitment of consumers are. To say a lot of vernacular is to make the truck drivers run more time and run longer, it is really to save money and make money, and this is the pain point that truck drivers urgently need to solve.
In addition, Zhang Lei stated that Shell Lubricant, as an international leading brand, has been ranked number one in global sales for eleven consecutive years. It is responsible for providing comprehensive lubrication solutions for the heavy-duty truck industry, boosting the innovation and upgrading of the commercial vehicle industry, and leading the maintenance of the entire heavy-duty truck lubricants. The responsibility of the industry to a new height is also the responsibility and obligation of Shell to continuously promote technological innovation.
"Customer First" is a common service tenet between Shell and FAW Jiefang. Zhang Lei told China Truck Network that this is exactly what they have done after digging into the post-market to improve the marketing layout and continue to export high-quality products for the industry. One is the world-renowned international brand, and the other is the leader of the domestic independent commercial vehicle brand. The combination of the two makes people highly expectable, and it is difficult to question their determination and strength to provide quality services to users.
It is believed that the joint venture between Shell and FAW Liberation will bring more benefits to the truck driver's side. The Liberation-Shell House is a milestone project that they jointly create high-end brand image.
"We do not forget the beginning of the heart, we must always have. In the face of the concept of reducing 'total cost of ownership' advocated in the era of mass logistics and commercial vehicle industry in recent years, Shell will complement the advantages of FAW Liberation, innovation and change will continue to the world. Top-notch technologies, products and services are available to our customers in China and around the world." Zhang Lei's ambiguous tone reveals his confidence in asking his friends for wealth.
Steel Conveyor Idlers are most important components of belt conveyor.
We have rich experience, professional technical team and advanced inspection equipment to ensure the high quality of the conveyor rollers.
Many different types of Conveyor Roller can be produced by us, such as Ordinary Steel Roller, Impact Idler , Trough Idler , Flat Return Roller , Rubber Disc Return Roller, Self-Aligning Idler and so on.
OEM and ODM orders of Conveyor Idler are welcome, just give us your drawing of the conveyor roller.
Steel Conveyor Idlers
Conveyor Idler,Conveyor Parts,Conveyor Components,Heavy Duty Steel Rollers
Qufu Zhuoyue Heavy Industry Science&Technology Co., Ltd , https://www.zhuoyueindustry.com