The combination of technology and agriculture can effectively solve the pain points of traditional agriculture. Especially in the field of agricultural environmental monitoring, science and technology can make it possible to accurately measure climate parameters that were previously undetectable, allowing the determination of a single environmental indicator to become a multi-dimensional, multi-index environmental monitoring... This has greatly improved Modern agricultural technology level. Top Cloud Yunnong Agricultural Environment Detector is a typical representative of this advanced technology. With the widespread use of this equipment, the degree of intelligentization and automation of our country's agriculture will be greatly improved, and China's agriculture will also be issued. New energy.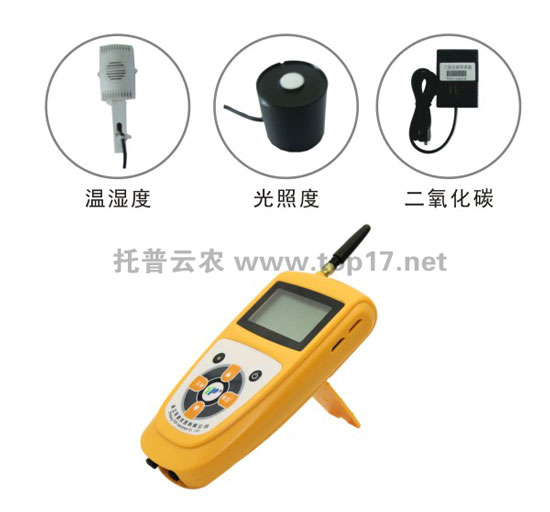 Top Cloud Yunnong Agricultural Environment Detector can demonstrate its value in agriculture from the following five aspects:
1. The use of agricultural environmental detectors has enabled the narrow field of environmental monitoring to achieve a shift in the direction of monitoring in all areas;
2. The agricultural environment detector has achieved high quality, multi-functionality, integration, automation, systematization and intelligence of agricultural environmental monitoring;
3. Agro-environment detectors have successfully transformed traditional agriculture from labor-intensive to technology-intensive;
4. The agricultural environment detector has realized the combination of simple ground environmental monitoring and remote sensing environmental monitoring technology;
5. The application of agro-environmental detectors changed the manual sampling and laboratory analysis methods for agro-environmental monitoring, and enabled automation, intelligence, and networked monitoring of the agricultural environment.
It is precisely these five application values ​​of the agricultural environment detector that make people no longer have no way to monitor the agricultural environment, realizing the real-time monitoring of agricultural production ecological environment data, and enabling agricultural producers to more clearly understand the changes in various parameters of the environment. The process facilitates producers to more accurately understand and grasp the production environment of crops, timely and appropriate regulation and optimization of the growth environment of crops, and is conducive to the improvement of agricultural production efficiency.
Cut to Length Line is used in the Metal materials cutting.

Hangzhou Yibo Machinery Co.,Ltd, founded in 2003 is an professional machinery manufacturer for design, produce, service and trade.

Yibo's main products are Cold Roll Forming Machine, such as purlin Forming Machine , guardrail forming machine, roof panel forming machine, wall panel forming machine, tile forming machine, floor Deck Forming Machine, Roof Seaming Machine and so on; steel coil process machinery such as Slitting Line , cut to length line, combined line and so on; accessory Stamping Parts such as roof supporting clips, connect bar, water bar and so on.



Cut to Length Line
Cut to Length Line,Cut to Length Machine,Cut to Length Line Machine,Cut to Length Process Line
HANGZHOU IUWON TECHNOLOGY CO,. LTD. , https://www.iuwon.com